Looking back at the Olympic Games in Tokyo, it is almost impossible for us not to admire and respect the sacrifice, drive, focus and almost other-worldly discipline espoused by Olympic champions in their respective sport. We cheer them on from roaring stadiums and from behind television screens in lounges all over the world, sharing a miniscule fragment of their moments of victory, and their heartbreak in the face of defeat.
It is clear that the modern world has an obsession with winning. We perpetuate a culture where success is everything; where we must pay and sacrifice to achieve it, no matter the cost. Our social media feeds are filled with anecdotes of enormous success in many fields, such as science, sport, fashion or business. We are constantly being sprayed in the face with a firehose of content to motivate us and to "take you to the next level" - whether it be a quote from a famous athlete, or a twitter thread with tips on how to achieve more in your business or your relationships. Self-help books consistently rank as one of the highest sold genres on Amazon. Entrepreneurs are now mainstream celebrities. The concept of self-development and success stories have never been more prevalent in the vernacular of our society as they are right now.
This constant glorification of our elite leads many of us to compare ourselves to the cream of the crop in our respective fields, looking for novel ways to produce more and improve, so that we can win the proverbial gold medal at the end of the race.
This article is about how success is poorly defined by society, and how this winner takes all mentality widens the gap between those with the best starts in life, and those who are not so fortunate. Whether you are successful or not can only be defined by you - not by cultural criteria or norms. One story that illustrates the stark contrasts between different viewpoints of success is that of the Olympic games in Sydney in 2000, and the tale of Eric Moussambani Malonga, more commonly known later by the media as "Eric the Eel".
Eric Moussambani is a swimmer from Equatorial Guinea, a small country on the west coast of central Africa with a population of just over 1,000,000. Despite being an oil rich country having a higher GDP per capita than many countries in Europe, it is a country that has been governed for many years under a brutal and oppressive dictatorship. This has sadly led to the outcome of an objectively bad standard of life, in which less than half the population have access to clean drinking water and around 1 in 12 children die before the age of five.
Eric was born on 31 May 1978 and he then got into swimming when he finished high school. At the time, there was very little in the form of swimming pools in Equatorial Guinea. Eric eventually managed to get access to a small hotel swimming pool of just 13 meters, that he was allowed to use for 3 hours a week.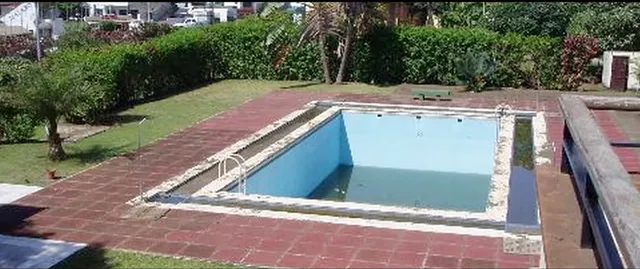 When he could not use the hotel pool, he swam in nearby rivers and in the Atlantic Ocean. His "coaches" were the fishermen by the water, teaching him how to kick his legs and swim so that he did not sink.
After 8 months or so of training, the International Olympic Committee (IOC) invited Eric to compete at the 2000 Sydney Olympics through their wildcard program - an initiative to help developing nations grow and promote their athletes and sport around the world. Set to compete in the highly coveted 100m freestyle event, Eric set off for Sydney, a city he had never even heard of up to this point in his life. His first ever journey outside of his home country would take over 3 days due to layovers and the general difficulty of travelling from Equatorial Guinea.
Upon arriving in Australia, he was taken aback by the sheer difference of the world he knew and the metropolis that is Sydney. His amazement was sustained as he was welcomed warmly by the Australian people, before making his way to his new short term home - the Olympic village. However, this amazement soon turned into fear and uncertainty upon seeing the 50 metre Olympic pool for the first time, which was nearly 4 times longer than the hotel pool he was used to training in.
"When I saw the swimming pool for the first time, that was the first time I had seen a 50-meter pool," Moussambani said. "I was so scared. The pool was so big for me. I wasn't sure."
All Olympic athletes train in the Olympic facilities in the days leading up to their respective events. Eric took this chance to align his training times with the United States swimming team, widely regarded as a world powerhouse of swimming - similar to the host nation of Australia. Having had absolutely zero formal coaching, he watched the elite swimmers as they trained in order to learn their training techniques and even asked for advice on how he could improve. Unfortunately, he was ignored by many, but there were some who imparted friendly advice to Eric and showed him some techniques. Chief among these was a South African swimming coach who, on his first interaction with Moussambani and having watched him swim in the training pool, could not believe that Eric was going to compete. This coach told Eric that he did not "see a swimmer in him" due to his lack of prowess. Nonetheless, he took Eric under his wing, explaining how to move his arms and legs and coordinate his breathing - a far cry from his previous coaching from fishermen back home in Guinea.
On the day of the first heat of the 100m freestyle, Eric came out with the other athletes. The noise of 17000 spectators filled the packed out Sydney International Aquatic Centre and the magnitude of the moment started to weigh on Eric's mind.
"I remember when they called my country and I came out. I was so nervous that I was going to swim in front of these people. I was so nervous that I was going to do something that these people were going to laugh at."
The thoughts going through the head of an Olympic athlete in the moments before competition are something that only a small percentage of us will ever experience in our lives. Despite the fear, doubt and lack of confidence Moussambani steeled himself and told himself that he could do this. He joined his other competitors on the blocks - Karim Bare of Niger and Tajikistan's Farkhod Oripov. What happened next would be a moment in Olympic history.
Both of Eric's competitors were so keen to compete and get an edge that it cost them. Diving into the pool too early while Eric stayed on his block, the 2 competitors were disqualified for committing a false start. In fact, Moussambani himself said that he thought he was the one who had been disqualified.
"I thought I was the one who was disqualified because I was just standing when they were in the pool. Then the referee told me that I am going to have to swim."
He would still have to swim the heat alone to beat the qualifying time of 1 minute and 10 seconds and progress in the competition. The realisation then dawned on him. The same man who had started training 8 months before in a 13 metre swimming pool at a hotel in Equatorial Guinea, was standing on the starting deck of the olympic competition pool in front of nearly 20,000 people in an arena, with hundreds of millions more watching around the world. All eyes were on him.
Standing on the blocks for a second time, the race was restarted and Eric alone dived into the pool. Despite clearly lacking the speed and technique that are generally shown at Olympic level, the initial amusement of the crowd and commentators in the form of laughter and bemusement turned into roars of encouragement as they realised Eric was giving absolutely everything he had. Everyone realised that his victory was not to win, but simply to finish.
He completed one of the two 50 metre lengths and even performed a turn in the water. Exerting almost all of his energy in the first length, the visibly fatigued Eric laboured his way back - thrashing in the water and barely moving in a straight line. There were growing concerns that he would have to grab the lane rope and suffer the same fate as his peers had earlier - disqualification. At that moment, Eric thought about his family, friends and others close to him that he knew would be watching on television in his home country. He had to finish the race. Compounded with the emphatic support of the almost deafening Australian crowd, he flailed, kicked, splashed and gasped his way to the other end.
Eric touched the other side of the pool, setting a race time of 1 minute and 52.72 seconds. This was the slowest time in Olympic history for the 100m freestyle event by quite some distance. Suffice to say he did not qualify for the next heat either, coming in over 40 seconds over the qualifying time required to do so. However, despite coming 71st out of 71 swimmers, this time was a personal best for Moussambani, and a national record for his home country of Guinea.
For comparison, in the 200m freestyle event at the 2000 olympics (double the distance that Eric swam), 26 swimmers posted a faster time than his over 100m. The 70th place finisher in the 100m event, a Bahraini swimmer, posted a time more than 50 seconds faster than Moussambanis effort.
On the other end of the spectrum, a world record of 48.30 seconds was set by the eventual winner of the 100m freestyle event, Dutch swimmer Pieter van den Hoogenband. These crushing statistics on paper would lead many to think that Eric had failed - that he had embarrassed himself and the Olympics on the world stage, and that all of his fears and doubts before the race had manifested themselves in real life.
This could not be further from the truth. As Eric ascended from the pool, visibly exhausted, he was congratulated and applauded by the crowd he had endeared with his sheer determination and guts to compete. So exhausted was Eric that he returned to the Olympic Village to sleep for several hours and recover from the swim.
Upon awakening, he made his way to the village auditorium and could not believe what he saw. The flashes of cameras blinded him and he was mobbed by media who had been waiting for him the entire time he slept. People asked for autographs and wanted to meet Eric and hear his story. Huge screens in the Olympic village displayed the spectacle of the 100m freestyle effort from "Eric the Eel", a nickname given to him by the worldwide news channels such as CNN and BBC news that were now all talking about Eric and the events of that morning at the Sydney Aquatic Center.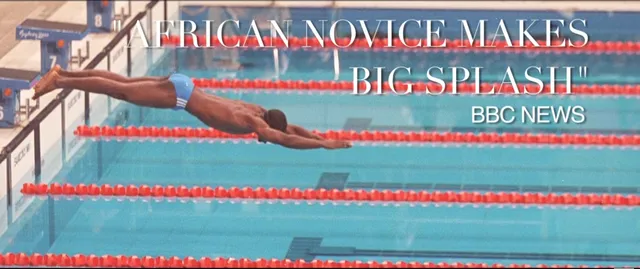 As part of his new fame, Eric even got to meet and shake hands with some of his swimming heroes, Australian swimming legends Ian Thorpe and Michael Klim. The fanfare surrounding Moussambani continued throughout the rest of the games, and Eric had cemented himself into Olympic history as a symbol of determination for many. He embodied the spirit of not giving up, showing up no matter what, and not letting impostor syndrome or a lack of self confidence stop you from doing anything that you want to do.
As with any story like that of Eric the Eel, there will be detractors. Jacques Rogge, the president of the IOC at the time viewed Eric's escapades as a "sham", feeling that this event damages the credibility and the spirit of the Olympic games. Rogge also stated his intent to abolish the wildcard system completely to avoid stories like Erics from occurring again. In the eyes of Rogge, a former Olympian sailor himself - success is victory. To him, success is being the best in the world at what you do, and waking up every day to relentlessly chase that goal.
In fact, a lot of the story of Eric the Eel naturally revolves around his non-competitive effort in the 2000 Olympics, but in reality one only needs to look at the events after the games to understand that he was enormously successful and that Jacques Rogge's opinion should be viewed as elitist. In the years following in his career as a swimmer, Moussambani dramatically improved - getting his time down to less than half of his Olympic effort to a respectable 52.18 seconds. Sadly Eric would not get to show the world his improvement at the 2004 Olympic games in Athens due to a visa issue caused by the combined bureaucracy of his home country and the olympic committee, both of whom clearly did not want to see Eric compete again. This disappointing outcome would conclude his competitive career.
Eric turned his focus to growing the sport he loved in his home country, becoming the coach of the national swimming team. Equatorial Guinea did not have a single Olympic-sized swimming pool when Eric was training in 2000. Now two have been built. One in the Guineas largest city, Bata, and another in the capital of Malabo. Erics countryman and swimmer Diosdado Miko Eyanga competed at the Tokyo games in 2020, and efforts continue in the country to grow the sport.
Would any of this have happened without the original efforts of Moussambani? Probably not. When we view success through the lens of medals won, metres ran, points scored or billions of dollars generated, it makes it very easy to call many a failure. Conversely, when we look at success in terms of coming from humble beginnings, lives affected, people inspired, opportunity created and obstacles overcome, the outcome is completely different. As individuals, it is up to us to draw the positives from our experiences and to enjoy the process of improvement and learning. It is up to us to realise how far we have come, and to ask ourselves if we are optimising for the right things in our life that match our own personal criteria for success - not those of our peers or of wider society.
The Olympic slogan is "Citius, Altius, Fortius – Communiter", a latin phrase which means "Faster, Higher, Stronger - Together". When reading this slogan, I do not think it embodies the comments of Jacque Rogge on Eric the Eels performance. It embodies the spirit of improvement - of getting better. It doesn't matter how good you were at the start - only that you are doing something to grow at something you love to do.
So - are you trying to be successful on your own terms, or trying to be successful by somebody else's?